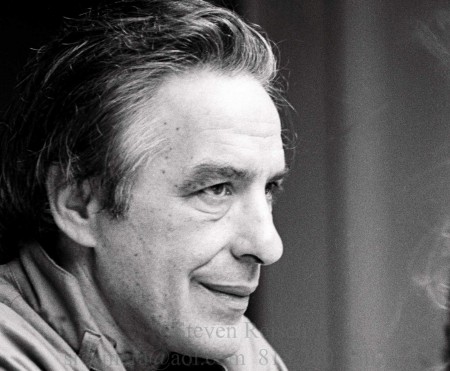 A visionary and a thrue independent, John Cassavetes had already created an indelible body of film work with such searing dramas as Faces, A Woman Under the Influence and The Killing of a Chinese Bookie when he undertook what was perhaps the most ambitious project of his career. In 1981 he set out to write, direct and produce three interconnecting full-length plays in repertory, funding the endeavor entirely on his own and presenting them at a Hollywood theater that he and his co-conspirators refurbished themselves.
With his eyes on an artistic prize that had nothing to do with monetary gain, Cassavetes refused millions of dollars from the fledgling cable industry to tape the plays, and an offer to take the production to Broadway was likewise spurned. And so the performances of Three Plays of Love and Hate, starring Gena Rowlands, Jon Voight and Peter Falk,went unrecorded, except in reminiscences of the participants and mostly negative reviews.
But thanks to Steve Reisch, an actor and photographer who became part of the Three Plays troupe, we have a visual chronicle of the pre-production phase, an intense period of rehearsal, improvisation, writing and rewriting that Reisch likens to "a master seminar on life and acting."
Reisch's photographs, displayed in the Center Theater during the play's run but otherwise unseen by the public for 34 years, illuminate a relatively unexplored chapter in Cassavetes' career. More than that, though, they tap into the emotional depth and electricity of his working process with a rare intimacy.
Reisch, who had a role in one of the plays, The Third Day Comes, had a unique perspective on the production: As the troupe's official photographer (though it's safe to say that nobody involved would have used the word "official"), he had unlimited access to the daily rehearsals of all three plays, as well as the ongoing stage construction.
He had approached Cassavetes and Rowlands as they entered the theater one morning and pitched the idea of creating a photojournalistic record of the event that could be published as a book. Cassavetes' response, "Be here tomorrow at 9a.m.," was indicative of his intuitive way of working. "If you walked up to him and he had a feeling about you in the first quarter of a second," Reisch says, "then you were in."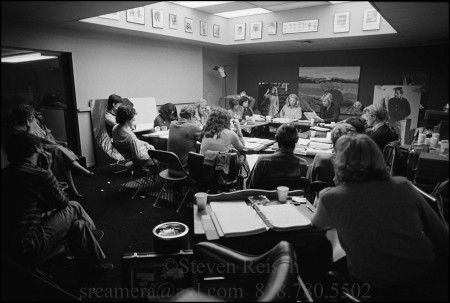 The unguarded moments that Reisch captured table reads; tête-à-têtes between the director and actors; a kiss between Cassavetes and Rowlands, his wife; are alive with a sense of creative communion, inspiration and hard work. Until the curtain went up on opening night, Three Plays of Love and Hate was, in the deepest sense of the term, a work in progress.
Two of the plays, The Third Day Comes and Love Streams, were based on work by Canadian playwright Ted Allan (the latter originally titled I've Seen You Cut Lemons) and underwent radical rewrites by Cassavetes during the initial five weeks of rehearsal. The third play, Knives, which starred Falk and his wife, Shera Danese, was a Cassavetes original. It connected emotionally to the Allan plays in its exploration of families facing upheavals. (Three years later, Cassavetes turned one of the plays, Love Streams, into his penultimate film, and his last truly personal cinematic statement; he died in 1989 at age 59.)
Cassavetes encouraged his actors to extemporize during rehearsals, with an assistant taking notes, and each night would incorporate changes into the scripts. The aim was to stay genuine to the moment while tailoring the characters to the actors. As a director, "he never told you to do it a certain way," Reisch says. "You were supposed to know who that person was and live it."
As with all of Cassavetes' work, the subject was love – tortured, tumultuous, exquisite – and the life-defining moments that reveal how we connect with each other, or don't.
Voight, who costarred with Rowlands in Love Streams, still marvels at "the daringness of the work: going into areas that nobody ever went into."
For all the emotional intimacy of the material, Cassavetes was choreographing a theatrical experience on a bold scale: Knives had 29 scenes and 35 actors, The Third Day Comesfeatured 41 actors, and the three-hour, 36-character Love Streams moved among 15 locations.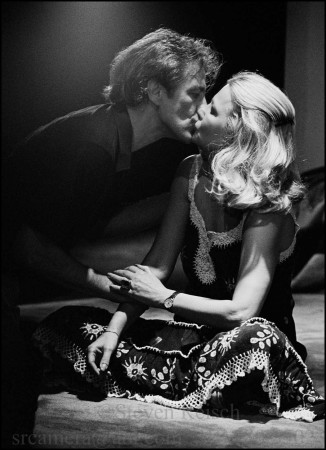 A cast and crew of hundreds worked for months with no pay, many of them walk-ins who entered the construction-site theater eager to help paint or build the set, to watch the rehearsals or try to get a few lines in one of the plays. Cassavetes' open-door policy fostered a communal environment in which creativity could thrive. He pushed people to see themselves as artists who were an integral part of the process.
As well as being a uniquely present human being; just look at him looking at his actors in those photos. Cassavetes had a talent for zeroing in on the smallest details of each moment without losing sight of the bigger-picture goal, a truthful work of art. An actor himself, he valued the moment-to-moment experience of the actors above that of the audience; "I hate entertainment," he once said with great gusto to a documentary filmmaker.
Set designer James Eric, who oversaw the transformation of the Center Theater for Three Plays, recalls the intensity of the experience, describing Cassavetes as "a magician with one foot in black magic and one in white. He takes devotees in his arms like a conjurer, then drops them in a playground of chaos."
Cassavetes' energy and magnetism drew the like-minded and adventurous to that chaos, the churning raw material of art. On stage and on screen, within shouting distance of the profit-focused Hollywood studios, he pursued the messy beauty of storytelling with a ferocious and exuberant independence. And for a few months in 1981, he embarked on a theatrical adventure with a few hundred collaborators. Looking at Reisch's images of that vibrant and focused give-and-take, it's easy to see why the photographer says of the director,"He saw who you were." Cassavetes' profound love for his characters and his actors will never dim.